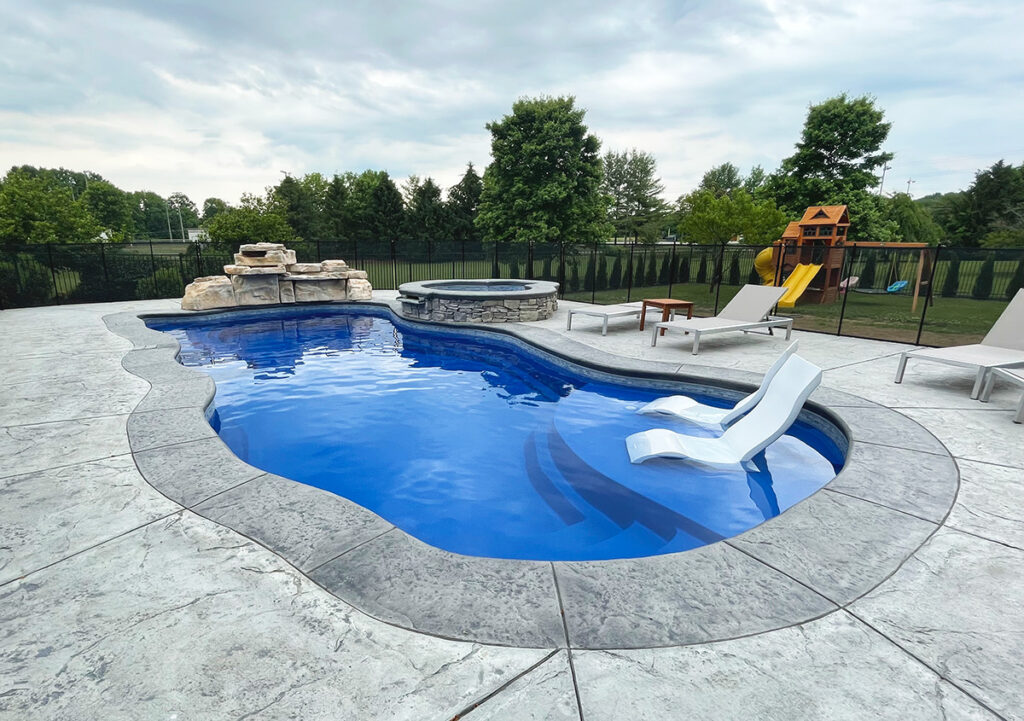 Custom Concrete Pool Solutions
Don't settle for the basics: Add beauty and functionality to your new pool with a modern concrete pool deck, stamped coping, or even a patio. Care Free Pools offers numerous custom and decorative concrete pool options through our collaboration with Creative Concrete Solutions, a premier concrete pool contractor serving middle Tennessee since 2004.
In addition to having many years of engineering and operations experience, the experienced team at Creative Concrete Solutions shares our belief in developing a personal relationship with each client. This means that you will be involved every step of the way to ensure that we design and install your custom concrete solution to your satisfaction.
Even after your pool construction is completed, we will continue to work with you by providing services like concrete resurfacing and pool deck repair.
Why Should You Get A Concrete Pool Deck?
Concrete remains one of the most cost-effective and visually appealing options for your pool deck and outdoor living space. Not only is it sturdier and more versatile, but decorative concrete can also present the same aesthetic quality as pavers, stone, or brick. Concrete is the most versatile and popular decking material available on the market.
Choose from a variety of concrete pool deck designs like stamped concrete, grey and colored concrete, exposed aggregate, and concrete overlays. We also offer a wide range of colors, textures, and stain options — so you can create a perfect backyard oasis that's all your own.
Stamped Decorative Concrete
With stamped concrete, you'll have the look of luxury at a fraction of the cost. Offering high durability and weather resistance, this low-maintenance decorative concrete option adds texture and color to enhance your outdoor space. Stamped concrete pool solutions are available in wood, slate, brick, heavystone, flagstone, and seamless patterns.
Our stain-resistant, environmentally friendly custom concrete solutions include the following:
Pool Decks
Patios
Decorative Stamped Concrete
Concrete Stepping Pads
Concrete Countertops
Water Feature Walls
Colored Concrete
Vanderbilt Finish Concrete
Decorative Concrete Overlays
Custom Pool Coping
Sidewalks
Driveways
When it comes to creating a stunning atmosphere around your swimming pool, Care Free Pools and Creative Concrete Solutions have you covered.
Contact us today to start creating the backyard of your dreams!
Contact Us To Get Started