We'll Bring Your Vision To Life
At Care Free Pools, we know how important a new swimming pool is to you and your family. That's why our team of experienced pool contractors works hard to ensure that your pool will look and function exactly as you envision it. As a premier inground pool construction company in Middle Tennessee, we've been building top-quality fiberglass pools since 1998. We are an exclusive Barrier Reef pool installer, which means we offer only the best U.S. made fiberglass pools in the area. Established in 1984, Barrier Reef is one of the most reputable fiberglass pool manufacturers in the world.
Discover The Care Free Pools Story
From custom tiles to water walls and full patios, our collaboration with Creative Concrete Solutions allows us to offer greater customization options for local homeowners. This unique combination of custom concrete work with quality craftsmanship and an incredible pool design ensures that your pool will be built to last.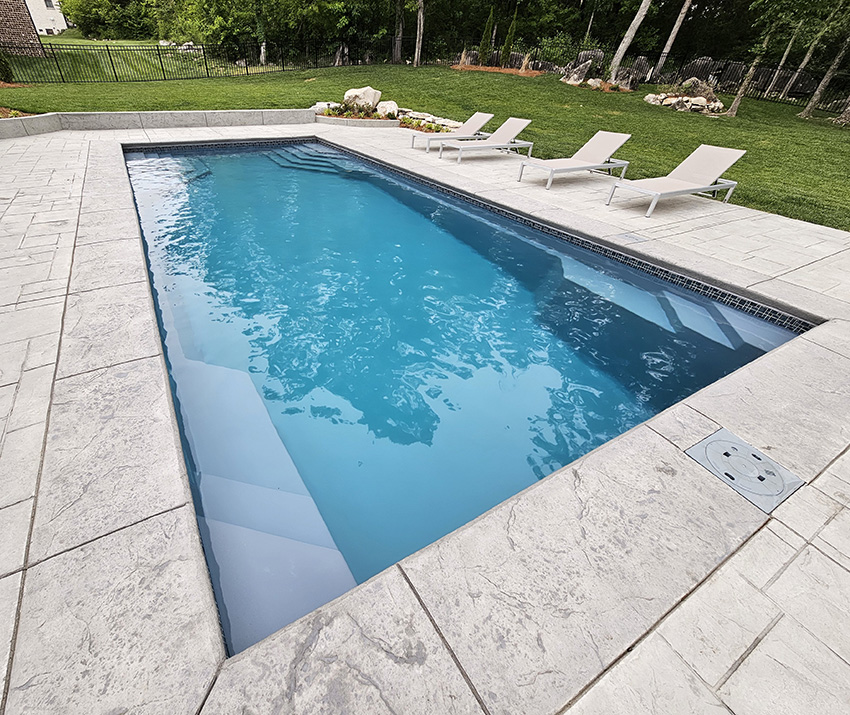 As a full-service pool company, we also provide electrical services for your inground pool. This includes electrical wiring installation for all Pentair pool equipment, including heaters, LED lighting, and additional customized electrical options. We offer a three-year warranty on parts and labor for Pentair equipment packages.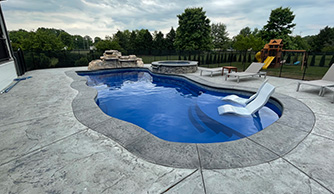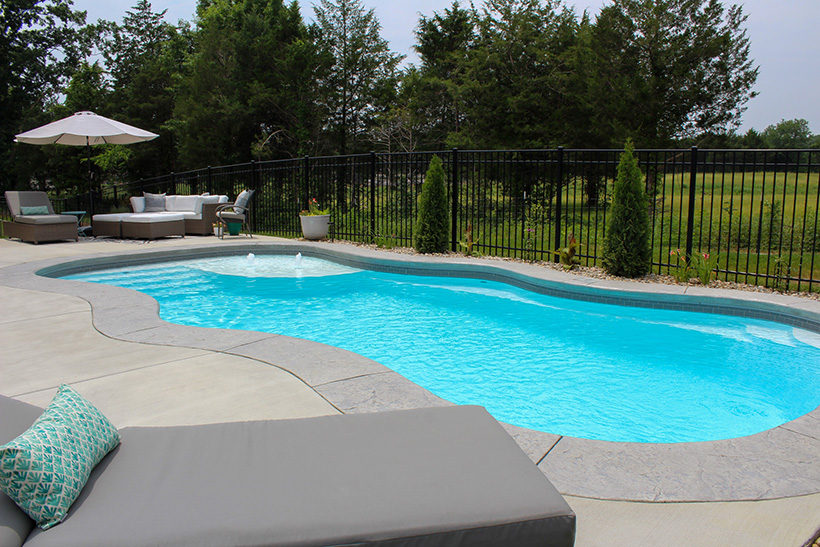 If you're looking for reliable fiberglass swimming pool contractors in Middle Tennessee, Care Free Pools has you covered. We take pride in our work and will ensure that your pool is built to the highest standards from start to finish. Contact us today – your backyard paradise awaits!
We're Your
Full-Service

P

oo

l Installation Company in Middle Tennessee
State-of-the-Art Pool Contractors
See for yourself why we're one of the highest-rated pool companies in Middle Tennessee.
Our custom fiberglass pool installation covers anything from standard inground rectangular pools to plunge pools and pool spa combos -- we have a swimming pool for every budget. We also offer options like lounging ledges, water walls, deck jets, customized stamped concrete coping, and custom pool tile work. Take a look at our gallery below to see our superior craftsmanship for yourself.
(Hover over each image for a full-size view)
View More Pools
Care Free Pools On My Southern Home Nashville
We were honored to be featured on My Southern Home with Kimberly Greenwell. Check out the video below to learn more about what we can do for you.
View More Videos
We Value Our
Customer
Relationships
As a family owned business, Care Free Pools, LLC enjoys creating relationships with our customers. We want to ensure your complete satisfaction, which is why all of our pools also come with a factory lifetime warranty. Unlike many other pool companies, Barrier Reef allows a one-time transferable warranty to new homeowners.
More About Us
Carefree Pools completed a pool for our close friends and we were pleased with their pool. They gave a great recommendation for Carefree Pools so we decided to go with them as well. Carefree Pools were very easy to talk to, they documented the plan & process, applied for all permits and laid out the pool nicely on our lot. The exciting dig day went well and each day after went smooth,as well. Scheduling went perfectly and their team were a pleasure to have around. This is our 3rd pool and we are more pleased with this pool than any other, by far. Our pool was completed on time, with high quality equipment and we are loving every minute. Our neighbors started a pool at the same time and it is still a long way off to be completed. We give Carefree Pools our highest recommendation.
Care Free Pools was a pleasure to work with from start to finish!! The owner, Doug Atkins, came out, we discussed our options for the space we had and it turned out great!! My family is loving our pool. The whole staff and employees were a joy to work with and we're very professional. When they said they would be there, they were. I would definitely recommend them to anyone.
Michael Cameron
2023-05-18
Care Free Pools were awesome! Very professional and we would recommend them to anyone!
Carefree Pools was a pleasure to work with. They were professional, polite, on time, and delivered what they said they would deliver. Travis and Mark were always helpful. Jordan is exceptional at her job, always responsive and willing to help. Would highly recommend Carefree and we'll be using them again in the future for some additional concrete work!
Absolutely wonderful experience from start to finish! Totally smooth process with no issues from project planning to installation to concrete. They took time to design the pool and go over everything in detail with us. They were always here working when they said. They worked long hours to get the job done accurately and quickly. I recommend Care Free Pools to anyone in the middle Tennessee area. You won't be disappointed!
My wife and I had a beautiful fiberglass pool installed by Care Free Pools and couldn't be happier. We love our pool, and the installation process was as care free as it gets with an in ground pool. Everyone we worked with, from the first phone call to last day, was prompt, professional, and happy to answer any questions we had during the installation process and long after it was completed. In addition to installing our pool, they built a stone waterwall, poured our concrete decking, stained and stamped the coping, and poured, stained and stamped a pad for our outdoor kitchen. The quality of the concrete work is impeccable, and the staining and stamping added an extra level of beauty to our backyard. They are not only professionals in their trade, they have elevated their trade to an art in a way that can only be achieved through many years of experience. I highly recommend Care Free Pool, LLC for your backyard oasis.
The whole crew at CareFree has been great and they are always responsive to our questions. We love the pool and spa they installed and would recommend them to anyone!
CareFree Pools did a fantastic job on our pool. With any project of this size there will always be issues that arise, but both Travis and Brandon were highly responsive and helpful. I would definitely recommend them to anyone looking to install a new pool.
Get Answers From Our FAQ